Shop by Category
2017 Winemaker's Harvest Report
Scroll down to see earlier reports
Report 6 - October 6, 2017
The continued warm and relatively dry weather is giving us something that we don't always have in our harvest—the ability to let fruit hang and ripen under full sun and heat. This time of the year we usually have to start considering trade-offs – carefully watching fruit quality and health of the leaves and often having to harvest before we would really like to beat the onset of deterioration from mold or disease. Right now, with the conditions we have been seeing, disease just isn't a problem and we are free to let the fruit continue to develop sugar, burn up acid, and start tasting really good.
In one of the early Harvest Notes, I commented on the early onset in veraison in one of our grower's Cabernet Franc vineyard. At that time, it was promising but too early to tell the ultimate effect this might have on final fruit quality and whether it would lead to accelerated development and an earlier harvest. Based on past experience I was betting "no" on early harvest. Most often when grapes are ahead of schedule coming into harvest, it always seems to even out by the end, and harvest ends up being at the normal time. So it was a bit of a surprise and a testament to this season's great conditions when we tested the Cabernet Franc earlier this week and found that everything was indicating a fully mature crop. We harvested on October 2, and the grapes are now in the fermenter, on their way to becoming what looks to be a phenomenal example of this phenomenal variety.
Speaking of red wines, we pressed off the fermenting Chancellor, one of the earlier red varieties and the resulting young wine was deeply colored with nice berry-like aromas and full tannins. The Dornfelder has also completed fermentation and will soon be barreled for aging. Starting next week, we'll be bringing in more of the late-season varieties, starting with Blaufränkisch and Carmine.
Another variety that is worth mentioning is Chardonnay. This year's fruit was clean and ripe when delivered, with a nice balance in of sugar and acid. Last year's Chardonnay was aged in 500L (132 gal) French oak puncheons, and this will be taken out of barrel in the coming week for bottling and to make room for the new vintage. These are special barrels—the size, just over twice the size of a normal barrel, changes the volume to surface area ratio and gives a more subtle and nuanced extraction of oak from the barrel. The result is a more elegant expression of fruit with a fine oak structure. Given the degree of perfection of the 2017 fruit, fermentation in these barrels should yield a truly spectacular wine. Stay tuned for release in 2019!
Bob Green
PIWC Executive Winemaker
Report 5 - September 29, 2017
We're in the middle of harvest now, and in a bit of a lull in the pressing schedule. It will be short-lived though —a day or two and we'll be back working with the late season varieties in full force. But this gives us a moment to look at how the harvest has been to date, and what the outlook is for the remaining weeks.

The big news so far is the weather and how many consecutive times the good side of the coin has come up for the grapes. The last several weeks have been hot and dry, with a lot of sun. The temperatures have been in the 80's for the most part, which is ideal for giving the vines a huge boost to ripen the fruit. Fall heat can also nudge molds and mildews into gear, though, if there is enough moisture to get them going. And that's been the beauty of this weather pattern: ample dry air and sun has kept these undesirables at bay, allowing the grapes to reach nice maturity while avoiding rot.

One grower observed that despite the dry conditions with no rain for several weeks, he's had to mow the grass every week, and the only brown spots were where the tractor has been driven on it. This is because of another aspect of the weather: cool clear nights that produce a heavy dew by morning. Not only has this kept the grass green, but it has also provided just enough moisture to the vines to allow them to continue the ripening process without stress. The dew dries up by midmorning, keeping disease from taking serious hold. All of this has given us a stellar harvest period to date, for the most part offsetting the less than ideal conditions of the earlier part of summer. The pattern has now changed to one that is more typical for us this time of year: temperatures are in the 60's, but we are still having a lot of sun in the forecast. Late-season varieties will continue to ripen, and molds and mildews will continue to be held in check. All puppies and rainbows for the grapes at the moment.

Ripeness can be assessed and measured in several ways. First is sugar content, measured in °Brix". This is the most common metric in the American Industry (other countries use different scales, or scales that also relate to potential alcohol). Sugar accumulation in grapes is a function of photosynthesis, and ample sunlight, adequate moisture, and leaves that are not disease-damaged are needed for maximum sugar levels. These conditions are all in place so far this year and varieties harvested in the last week have shown nice increases in sugar content to normal and typically better than normal brix.

Acid content, measured as either total acid (in g/L or %) or pH, is another important way of assessing the ripeness of the grapes. There are two primary acids found in grapes: tartaric and malic. As berries mature, tartaric acid remains at a fairly constant level while malic acid is transpired by the vine, lowering the acid content. The degree of acid metabolization by the vine is dependent on heat, and in a cool year, we see less malic acid transpiration and thus higher acid levels. This is what we are seeing in some varieties this year, especially the earliest ones because of the cooler conditions seen earlier in the season. Later varieties with longer exposure to the sun and heat are finally getting down to normal acid levels.

The final measure of ripeness and by far the most important: flavor. As a winemaker, I can adjust both sugar and acid level with reasonable results. It is much more difficult to make flavor adjustments that are successful. Unripe fruit simply lacks flavor, and we can't just add it from another source. We are kind stuck with what we get. One of the keys for our area in terms of developing flavor in berries is being able to let them hang on the vine long enough for the ripe flavors to develop. At the risk of sounding like a broken record, this requires ample sunlight, adequate moisture and leaves that are not disease-damaged. And yes, this is what we are seeing in the varieties that have been on the vines through this period. Nice, ripe flavors are showing up with a vengeance.

The upcoming week will have us back in the vineyard taking samples, trying to determine when to harvest each variety and block. In the meantime, we'll be monitoring wines fermenting in the winery, and keeping the caps on the fermenting reds punched down. Some of them will be pressed mid-week and will soon be ready for those of you looking to purchase them as Young Wines.
Bob Green
PIWC Executive Winemaker
Report 4 - September 22, 2017
The Lake Erie Region is well-known for its abundance of Concord and Niagara—the workhorse grapes of the juice and jelly industry epitomized by Welch Foods. Of course, those who are more familiar with the wines of the region also know that there are excellent local vineyards of standard wine varieties like Riesling, Chardonnay, and Cabernet Franc, to name but a few. Presque Isle also prides itself on making wines from European wine varieties that don't have as much name recognition, but which can and do produce world-class wines – varieties like Dornfelder, Blaufrânkisch, Carmine, and Pinot Blanc.
Of course, these grapes don't plant and tend themselves, and for that we rely on our growers. And when it comes to growing the most interesting non-standard wine varieties, one grower family stands out: John and Cindy Moorhead, and their son, Mike. Since the 1960's they have been growing premium wine grapes—native varieties, French-American and Cornell-developed hybrids, and European Vitis vinifera. They currently have 22 different wine varieties planted, some in large quantities and others as a one-row experiment. The farm is constantly evolving as John, Cindy and Mike strive to find the best varieties—many have been tried and rejected—for our local conditions and the best way to grow them.
In the coming week we'll be harvesting Dornfelder and Pinot Blanc. They make reliably good wines in Germany and France (and other places), and have made some excellent wines here in our region. Our Dornfelder, for example, has won several gold medals and has been among Pennsylvania's Top Ten Wines in recent years. Dornfelder is the result of a German grape breeding program that was striving for an early ripening, dark-skinned red wine grape. The cross, first made in 1955 and released as a named variety in 1979, is now mostly grown in Württemberg in southern Germany. Under the Moorheads' care in the Lake Erie Region, it expresses with red wines that are deep in color, medium bodied, with a nice tannic balance. The last several weeks have been hot and sunny—more summerlike than the actual summer was—making up for the overall cool temperatures earlier in the summer and this is really helping the vines to produce fruit that has a nice sugar level, low acid and ripe tannins. As a result, we are looking for big things from this year's Dornfelder – excellent ripeness along with deep and intense aromas that balance the soft tannins and full mouthfeel.
Pinot Blanc is a mutation of Pinot Noir (as is Pinot Gris) that is grown in many parts of Europe, most notably Alsace and Northern Italy (as Pinot Bianco, of course). It is also grown in Austria and Germany where it goes by the name Weissburgunder. It may not have the reputation of other fine white Burgundys, but it produces a really nice everyday white wine, pleasant and easy to drink. Pinot Gris has also really benefited from the heat and sun of the past weeks in even more ways than just superior ripening. This varietal has thin skin that can be susceptible to damage and molds and mildews close to harvest but this will not be a concern this year with the little amount of rain that we have experienced lately.
There will be more about John, Cindy and Mike as we continue to bring grapes in from their farm. They are true pioneers in the region, and the quality and diversity of the varieties they grow is noteworthy.
Bob Green
PIWC Executive Winemaker
Report 3 - September 15, 2017
Our harvest officially began this past week. At our last report, we were watching the weather cautiously and hoping to avoid any negative effects from the hurricanes. No worries! It was a week of sun and fun for the grapes and continued positive crop development.
The press pad crew, Jim, Adam and Lynn, have been diligently going over each piece of equipment making sure they're all clean and ready to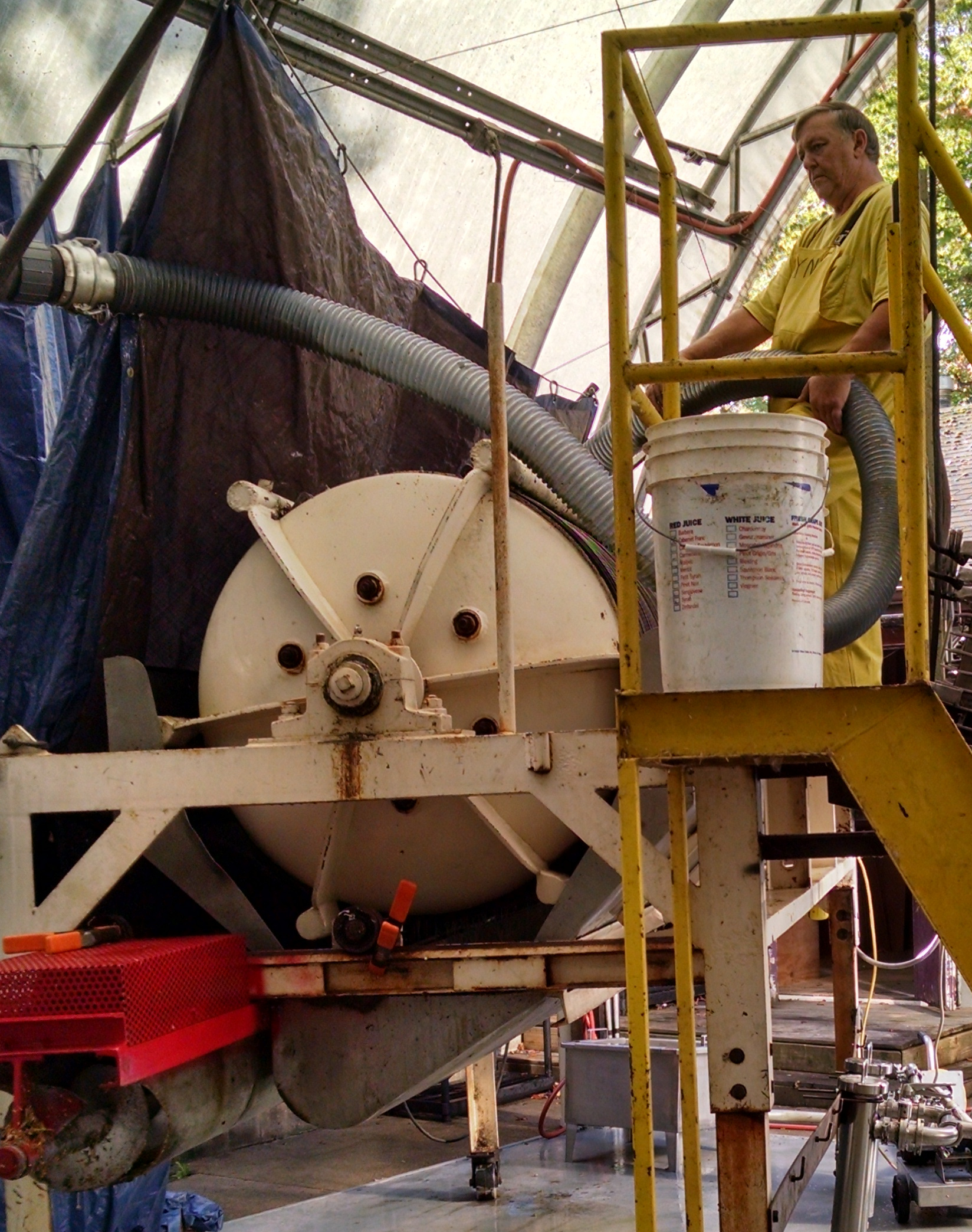 go. This preparation paid off, and our first week of harvest week went smoothly. Well done, gentlemen. As usual, we started off with Niagara, Fredonia and Seyval, three varieties which are the backbone of several of our most popular blended wines.
We also brought in our first vintage of Grüner Veltliner. After considering grape chemistry (Brix, total acid and pH), fruit condition, and most importantly, flavor, the grapes were hand-harvested on Tuesday and brought to the winery for processing. Next step: fermentation!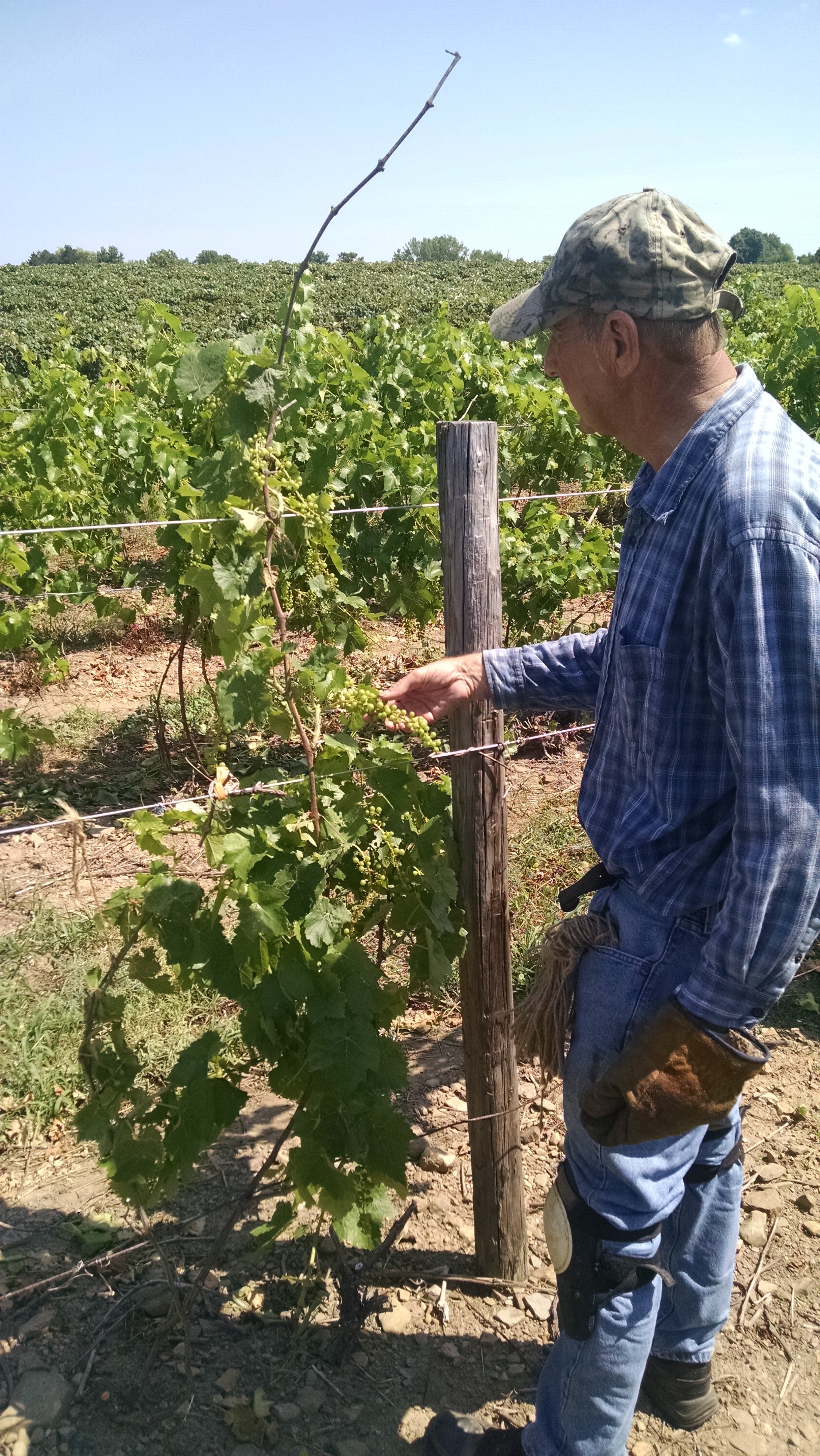 It's harvest, though, and we always keep looking forward to what is next. This means more vineyard visits and different varieties. Jim and Darlene Bartlett have been growing grapes for us for several decades, and primarily grow Fredonia, Chancellor, Chambourcin, Traminette, and the Vidal used in our famous Eskimo Kisses, as well as a few more varieties in smaller quantities. The vineyard is just down the road, behind the winery, a short tractor's drive away.
Vineyard visits with Jim are always educational. Jim worked at Penn State's Grape Research Lab in North East before he and Darlene purchased their own vineyard in the '70s. He is constantly making changes to the vineyard in an effort to improve quality of the grapes, to optimize quantity—not just total yield, but optimal yield given each season's conditions, and to minimize disease pressure. For us, all this care and attention ensures that we get a consistent, high-quality crop year after year. Jim will be bringing Fredonia to us soon, followed by Chancellor.
Overall, fruit quality is looking very good. The cool temperatures of the season are manifesting as higher acid content in the grapes; sugar content is what we normally expect with a chance for even better than normal levels in later varieties . Most importantly, the fruit is free of disease, and varietal flavors are developing nicely as the fruit ripens. The sun and heat we've had the last few days have only enhanced this, and we so far have been spared any ill effects or unwanted rain from the hurricanes that have devastated parts of the Caribbean, Texas and Florida.
Bob Green
PIWC Executive Winemaker
Report 2 - September 8, 2017
Alan and Jody Rassie are the owners of Rassie Farms. They grow blueberries and several varieties of grapes for us, including Valvin Muscat, Gewürztraminer, Riesling and Cabernet Franc. Their vineyard is situated high on the Lake Erie Escarpment, which not only gives them a spectacular view of the lake plain and Lake Erie, but also puts them in one of the prime spots to take full advantage of the Lake Erie microclimate. Alan and Jody can often be seen in their vineyards, tending each vine by hand, ensuring the best quality fruit.
This year, we will be getting a new variety (for us) from them: Grüner Veltliner, which has roots in Austria, and is proving to be a strong producer of exceptional wines in the region. Made as a dry white wine, it is characterized by aromas of lime, lemon and white pepper with a solid backbone of acidity. A superb wine with food! Since it is new, it is also a bit unknown in terms of when we can expect to harvest it. Our strategy is to test it at least once a week now, tracking the accumulation of sugar, while also watching the acid (measuring both titratable acid and pH), and of course, monitoring the flavors as they develop in the grape.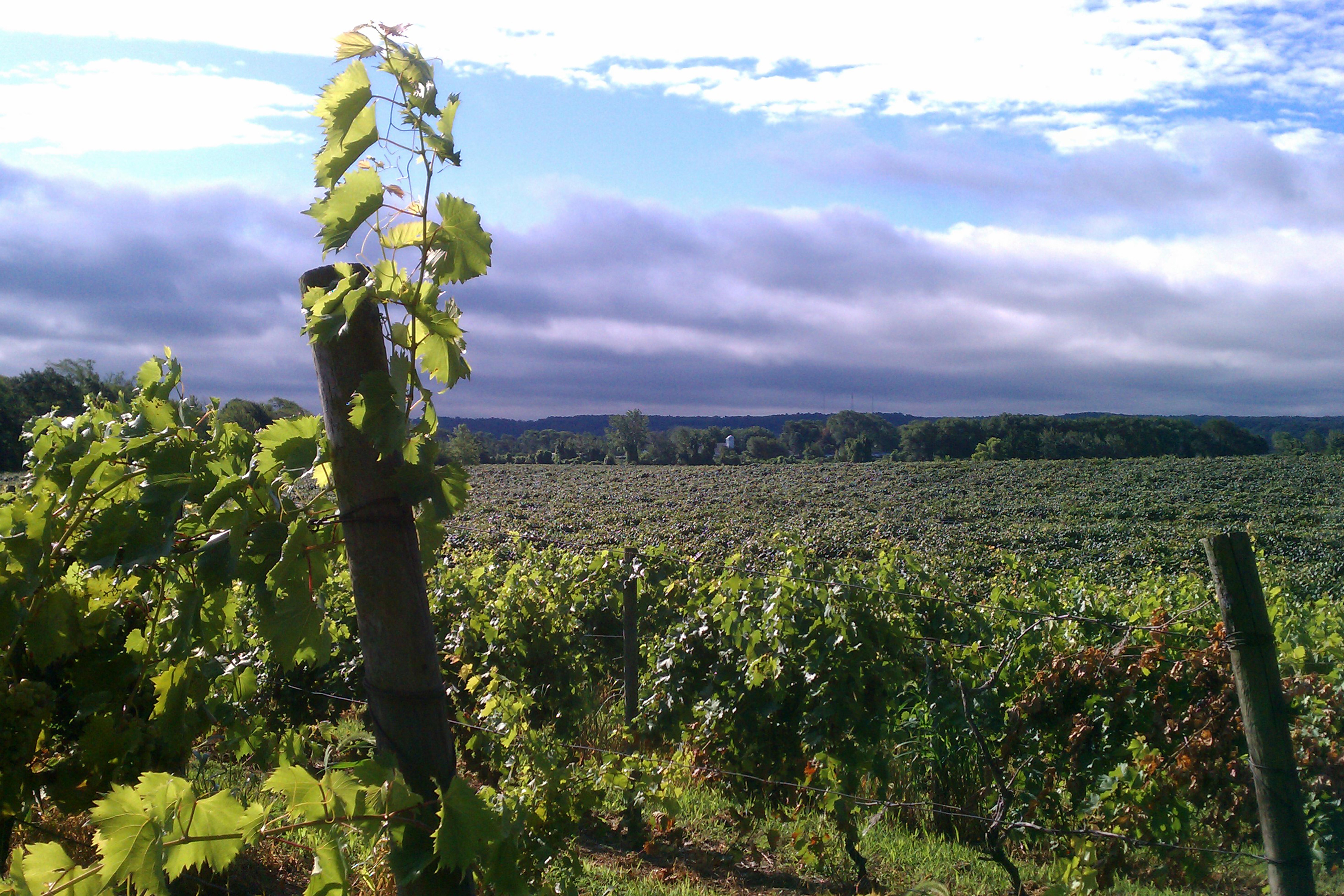 In addition to keeping an eye on the grapes in the vineyard, we're also watching the weather forecast. Depending on their path, the hurricanes that are currently threatening the Florida coast may eventually make their way to our region in remnant form and could potentially bring rainy weather. For varieties that are close to harvest, an extended period of rain can have a negative impact on quality - too much water to the berries dilutes sugar and flavor, and in extreme cases, causes the fruit literally to swell to the bursting point. Extended wet periods can also support the growth of molds and mildews, totally disrupting the final ripening process and resulting in an unusable crop. Given all of this, the next week will be a time where we talk with our growers frequently, watch the weather closely, and be ready to "pull the trigger" early if unusually wet conditions make it necessary. It could be a compromise situation, but having slightly less than fully ripe fruit is better than no fruit at all
Life is never dull for the eastern winemaker. Think good thoughts and stay tuned for the next week's developments.
Bob Green
PIWC Executive Winemaker
Report 1 - September 1, 2017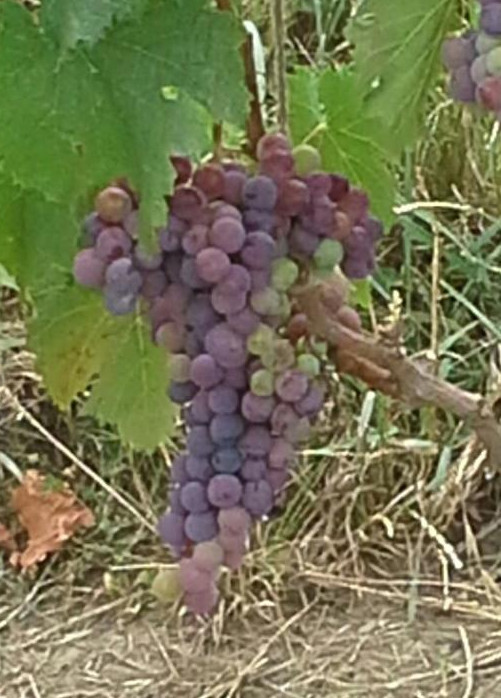 Being a grape grower in the Lake Erie Region never gets boring. Every growing season, it seems, has its own progression, which really starts the year before when the primordial buds—those that will bear fruit the following year—are formed. So, looking back, we note that we had a stellar year in 2016, resulting in healthy vines that were in prime condition going into a what turned out to be a very mild winter.
We avoided early spring bud damage, even though we had unseasonably warm temperatures from mid-February through early March that came close to initiating bud growth. It cooled off after that, and we continued to be ahead of schedule through most of the rest of the growing season. Fruit set (the number of berries that actually develop on the new clusters after bloom) was good, setting the stage for a relatively large crop.
Summer turned out to be cool and wet—not really what we like to see for our grapes. Molds and mildews can start to show up, and it takes a concentrated effort by the grower to keep them under control. Our growers understand the importance of this effort, and the vineyards that I have seen in my visits are all clean and healthy. For most of the wine varieties, adjustments were made to reduce the amount of fruit the vine was carrying and optimize bunch development - removing excess shoots and clusters, removing leaves to allow more sunlight to get to the clusters and allow better air movement to aid in keeping molds and mildews at bay. At the end of July, the weather pattern changed, and became much drier but cooler temperatures remained with nighttime temperatures dipping into the 50's.
This is where it gets interesting. Grapes reach a point in their growth cycle that we refer to as veraison, marking the final stages of ripening and flavor development. It is during this time that pigment starts to develop in the skins, most noticeably of course, in red wine varieties, and all-important varietal character develops. Weather during this time seems to be more critical to overall quality than earlier in the season; a warm and dry post-veraison period can more than make up for cool and wet conditions earlier in the year.
Veraison is triggered by cool nights like we tend to see starting the end of August. This year, though, with cooler daytime and nighttime temperatures earlier than normal, we observed veraison beginning in our Cabernet Franc on Aug 15, almost 2 weeks ahead of schedule. What this will mean for this year's crop wine quality is still unknown—but it is encouraging. Beginning veraison early gives more ripening time and has the potential to allow for exceptional ripeness and flavor development. We'll start to know more as we continue testing grapes in the vineyard, and the final answer will be apparent at harvest time.
Stay tuned to my upcoming posts to see how the story develops. Cheers!
Bob Green
PIWC Executive Winemaker
---
Local Grapes and Juice and CA Grape Availability
This year's crop is expected to be large and we are optimistic about the quality as well. We should have good availability for Local Grapes and Juices. You may also wish to consider our CA Grapes and Juices, Fresh Australian Juice, and Fresh Italian Juice options in addition to your local purchases. We will be accepting pre-orders for grapes by the pound and ton. Pricing will be based on the volume you purchase. You can pre-order your local juice online or by phone and must be picked up at the winery. Grapes will only be sold via fax or over the phone.
For all the details, visit our Local Harvest page if you are ready to purchase.
We will have a better estimate of when you can pick up your grapes when it gets closer to harvest. These varieties are also subject to change due to Mother Nature and will be updated as the harvest and pre-sale date nears.
Visit our Grapes and Juices pages to stay up to date on all developments Also like us on Facebook and be sure you are on our email list to ensure you don't miss any Fresh Grapes and Juices news.